"Get the Best Night's Sleep Ever!"


Review Saperston's Economic Research fresh each Saturday Morning. It is specially prepared by Stone & McCarthy Research of New York City. Go To : www.saperston.com tml>

WEEKLY ECONOMIC COMMENTARY -- WEEK OF DECEMBER 15, 2017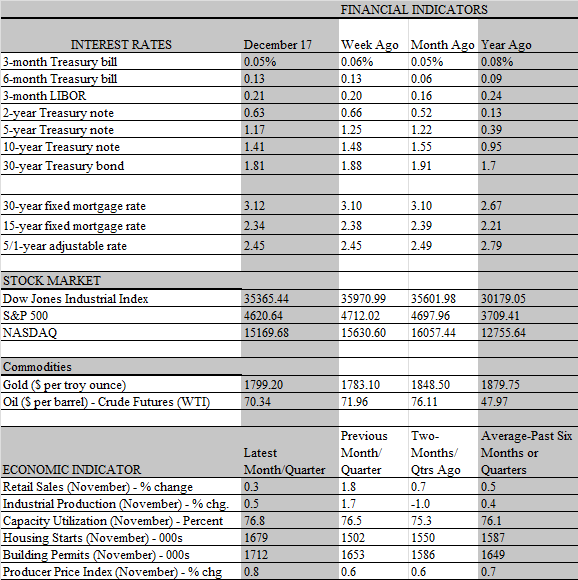 The financial markets spent an eventful week digesting news on the political, policy and economic fronts. While there was little market reaction to the upset result in Alabama's Senatorial race, the loss of a Republican seat narrows the party's majority in the chamber to a slim one vote, which could complicate the Republican legislative agenda going forward. The next significant item, for example, will be passing a spending bill to fund the government in 2018. Congress will probably approve another short-term measure to carry it through early January but after that the Republican's leverage is diluted by the addition of a Democrat in the Senate. Simply put, a government shutdown that would clearly stoke market volatility is more than a nontrivial prospect.
On the policy front, the long-heralded tax overhaul seems poised to go to the president's desk for his signature by Christmas, as the House and Senate conferees worked out key differences in their respective bills. However, as of Friday not all of the details had been ironed out, most notably regarding how to pay for some of the changes. What's more, the final bill still has to be approved by the full Congress, and it is not clear if all of the Republican Senators will fall into line. While it appears that two holdouts, Senators Rubio and Corker, have been coaxed into a positive vote on Friday, the Senate still needs to get the votes of John McCain and Thad Cochran whose availability for health reasons remain in doubt. At this late stage of the process, failure to cross the finish line would so upend expectations that the market impact could be severe.
From our lens, the tax cut bill would impart a modest boost to growth next year, lifting it by almost a half-percent to 2.5 percent. The steep reduction in the corporate rate should impart further impetus to investment spending, which has already started to rebound about a year ago. Consumers too should benefit from lower tax bills, but consumption will not respond dollar-for-dollar, as some of the increase in disposable incomes will be used to rebuild depleted savings. Indeed, households have been spending beyond their means for some time, partly in anticipation of tax cuts; in a sense, much of the cuts may already have been spent. That said, the expected modest growth boost from the tax bill has not prompted the Fed to accelerate its planned rate hikes over the next year. The latest blueprint, revealed at this week's policy meeting, calls for three more increases in 2018 and two more in 2019, which is the same schedule that was presented at the previous meeting in September.
As expected, the fed funds rate was increased by a quarter-percent to a range of 1.25 %-1.50 % at the latest meeting, the third hike this year and the fifth since December 2015. In its updated quarterly forecast for the economy, the Fed also sees a modest benefit coming from the tax bill, as it revised up its 2018 growth outlook from 2.1 percent to 2.5 percent. It also sees unemployment falling more than it did back in September, with the jobless rate now expected to slip to 3.9 percent next year compared to 4.1 percent previously. Given these strengthening metrics, it's natural to ask why the Fed is not ramping up its rate-hiking strategy. The answer can be found in the behavior of the other key variable that is crucial to the Fed's mandate: the persistence of low inflation that has remained below the Fed's 2 percent target for more than five years. Indeed, two officials on the Federal Open Market committee voted against the latest quarter-point rate hike for that very reason.
To be sure, Fed officials still expect inflation will move up to the target over time, although the dissenters believe there is little risk in waiting before lifting rates. Interestingly, policy makers did not change their inflation forecast for the next year, even as it they see stronger economic growth and lower unemployment than they did three months ago. That suggests they believe inflation is less responsive to these conditions than in the past. It also suggests that the unemployment rate would be allowed to fall further than otherwise without triggering accelerated rate increases. Whether that notion remains valid next year when the FOMC will consist of more inflation hawks remains to be seen. Neither the two dissenters to the latest rate hikes nor the outgoing Fed Chair, Janet Yellen, will be on the committee for any of the policy meetings in 2018.
At this juncture, however, there is little sign that inflation is responding to the healthier economic fundamentals. Rebounding energy prices did give a lift to the headline reading on consumer prices in November, as the consumer price index jumped 0.4 percent during the month. That increase, which was paced by a 3.9 percent spike in energy prices, exceeded expectations and boosted the annual rate to 2.2 percent from 2.0 percent in October. But aside from energy, prices of virtually all other items in the consumer basket rose more slowly. The core CPI, which excludes volatile food and energy prices, edged up by only 0.1 percent, slower than the 0.2 percent increase in October, returning the year-over-year increase to 1.7 percent from 1.8 percent the previous month. Prior to October, the annual core inflation rate had been stuck at 1.7 percent for five consecutive months, so any breakout towards 2 percent is still more of a hope than a reality. Keep in mind too that the Fed's preferred inflation gauge, the core personal consumption deflator, is even further behind the 2 percent target, increasing at a 1.4 percent annual rate through October.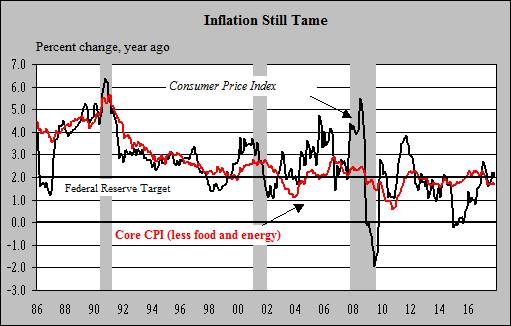 On the surface, households should be happy with the slower pace of inflation, since it stretches the value of their paychecks. However, consumers need to purchase gasoline for their vehicles and heating oil for their homes, and the higher energy costs that boosted headline inflation also took a bigger bite out of earnings. Indeed, worker earnings are barely staying ahead of inflation, as real average hourly earnings increased by a tiny 0.2 percent in the year through November. Recall that even as a muscular 228 thousand jobs were created in November, average hourly earnings increased by a disappointing 0.2 percent, half the inflation rate, resulting in a 0.2 percent decline in real purchasing power between October and November. That was the third consecutive drop in real average hourly earnings.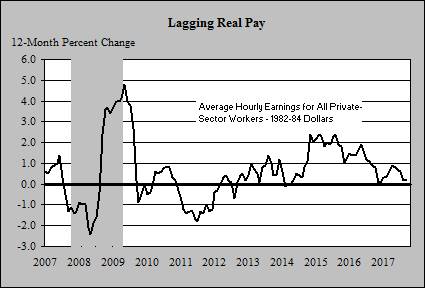 The good news is that with strong job growth and workers putting in more hours, weekly paychecks are staying well ahead of inflation. In November, real average weekly earnings increased by a sturdy 0.8 percent compared to a year earlier. Hence, with aggregate purchasing power rising, thanks to a vibrant job market, so too is aggregate demand. After taking a breather in the third quarter, growth in real personal consumption expenditures is rebounding in the current quarter. That pattern was clearly evident in this week's retail sales report, confirming that consumers entered the holiday shopping season in an exceptionally festive mood. Importantly, they are backing up, with action, the high level of confidence expressed over the past year.
In November, retail sales increased by a solid 0.8 percent and the October advance was revised up to 0.5 percent from the 0.2 percent previously reported. Over the past twelve months, total sales increased by 5.8 percent, a yearly gain not seen since early 2012 when spending was still climbing out of a deep recession trough. Just as impressive as the magnitude of the November increase is the breadth of the increase. Virtually every major spending category showed strength last month except for autos. But the slippage in auto sales followed two exceptionally strong months of sales that were buoyed by hurricane replacement demand. Even the beleaguered department stores that have been steadily losing ground to online retailers enjoyed a sales increase for the third consecutive month. Still, Internet sales continue to swamp those of brick and mortar establishments as nonstore sales jumped by another 2.5 percent in November, accounting for one-third of the increase in total sales. That's three times greater than the share of total sales accounted for by Internet transactions.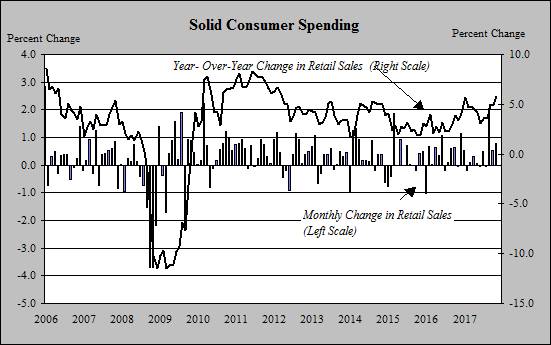 The robust October-November increase in consumer spending coming off of a high September base puts the growth in real personal consumption on a significantly faster track in the fourth quarter than the 2.3 percent rate posted in the third. We now expect real PCE to advance at a 3.0 percent rate in the current quarter, underpinning a 2.8 percent increase in GDP. Needless to say, it would not take much of an upside surprise, either from consumers or other sectors, such as business investment, residential outlays or exports, to hoist the fourth quarter above the 3.0 percent growth mark for the third consecutive quarter. That would be the longest stretch at 3.0 percent or better since 2004. It would also mark another quarter of above trend growth that should further embolden the more hawkish Fed officials to preempt an inflation outbreak.
It is hard to dismiss the gathering strength the economy is displaying in the final months of the year. However, whether this momentum has staying power is questionable. Odds are, the tax cuts will fuel the capital-pending rebound now underway and the provisions in the bill that allow full expensing and encourage companies to repatriate foreign earnings should be additional positive forces for investment. What's more, the lift to after-tax profits from the cuts might nourish the remarkable stock market rally and underpin another increase in household net worth, already at record heights. That said, the wealth effect would not compensate for the ever-widening gap between household spending and income, which has driven the savings rate down to 3.2 percent from a post-recession high of 7.2 percent. As we have seen, wage growth still shows no sign of catching up, despite the strong job market. We suspect the need to rebuild savings will be a restraint on consumer spending in 2018, leading to slower growth in personal consumption expenditures.
Still, the economy is closing out the year on a firm note and is poised to continue on a positive growth trajectory in 2018. Consumers may slow their purchases, but there are strong offsetting forces at play. Not only are businesses stepping up to the plate, the global economy is picking up strength, which should provide heft to exports. On balance, the economic backdrop should allow the Federal Reserve to continue unwinding its policy accommodation, putting through its planned three rate increases next year and continue to shrink its massive holdings of Treasury and mortgage-backed securities. If anything, the risk is that the Fed may have to move more aggressively, particularly if the economy continues to exceed its speed limit and inflation pressures build more rapidly than anticipated.