"Get the Best Night's Sleep Ever!"


Review Saperston's Economic Research fresh each Saturday Morning. It is specially prepared by Stone & McCarthy Research of New York City. Go To : www.saperston.com

WEEKLY ECONOMIC COMMENTARY -- WEEK OF AUGUST 17, 2018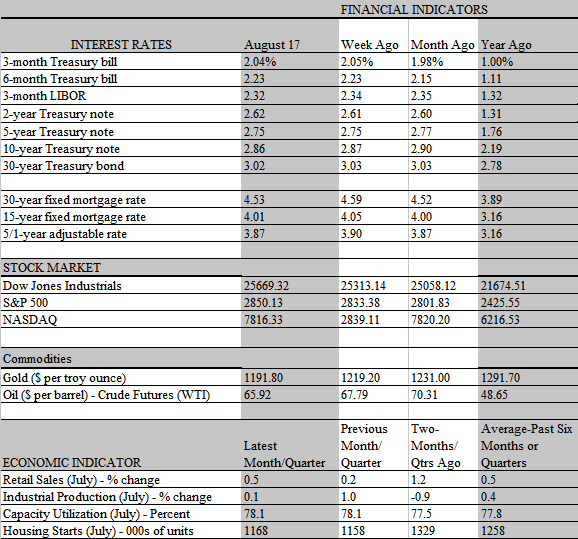 The financial markets endured another wild ride this week, buffeted by external events that overshadowed mostly good news on the domestic economy. Investors ran for the hills early in the week as President Trump imposed both sanctions and higher tariffs on Turkey, sending the lira tumbling and raising the specter of another currency crisis among emerging market nations. But the pessimism that dominated market sentiment early in the week evaporated towards the week's end when news that the U.S. and China scheduled meetings among lower-level officials aimed at resolving the escalating trade dispute between the world's two largest economies. That, in turn, sparked a wave of investor optimism that helped propel stock prices sharply higher on Thursday, which more than erased the slide ignited by the Turkish spat
In addition to easing trade tensions, investor spirits were also buoyed by strong earnings reports from some leading companies, highlighted by a blockbuster result from Walmart, whose sales surged at the fastest pace in more than a decade. Contrary to widespread rumors of the death of retailers at the hands of online merchants, many of these brick-and-mortar establishments are apparently finding ways to lure online shoppers through their doors. Indeed, department stores, whose fortunes have long been eroded by the likes of Amazon, are enjoying a rebirth of sorts. After a six-year slide that saw current-dollar sales shrink by more than 20 percent -- resulting in a rising tide of store closings and more than 300 thousand employees sacked - department store sales hit bottom in November 2016. Since then, monthly sales have stabilized around $12.5 billion, but a firming trend appears to be setting in as department store revenues have increased in five of the past six months, including a 1.2 percent gain in July.
The upbeat sales trends at Walmart and department stores mirrors a larger trend of robust consumer spending, punctuated by the sturdy 4.0 percent growth rate in personal consumption expenditures in the second quarter. Some portion of that increase - the strongest in 3 ½ years - reflected delayed purchases from the first quarter, when harsh weather contributed to a slowdown in consumption to a lackluster 0.5 percent pace. But while pent-up demand played a role, households clearly had the firepower to go on a spending spree. The strong job market, lower taxes, elevated confidence and improving balance sheets underpinned the pick-up in consumption. Importantly, consumers showed little sign of fatigue heading into the third quarter.
In July, retail sales advanced by a stronger-than-expected 0.5 percent, following a downwardly revised 0.2 percent increase in June. Despite the weaker reading in June, sales started the third quarter with plenty of momentum. Compared to a year ago, overall sales rose 6.4 percent, matching the strongest annual growth since early 2012. Nor was the July increase skewed by an outsized gain in any one sector. The strength in sales was broadly based, with most major sectors advancing. Even auto dealers, where unit sales fell in July, saw their dollar sales increase 0.2 percent during the month, reflecting fewer price discounts offered to customers. Significantly, consumers are spending more freely on discretionary items, flocking to bars and restaurants at a record pace. Sales at food services and drinking places increased 1.3 percent in July, following gains of 1.6 percent and 2.8 percent in the previous two months. That translates into an eye-opening 25.3 percent annualized increase over the past three months, the strongest since records for these figures began in 1992.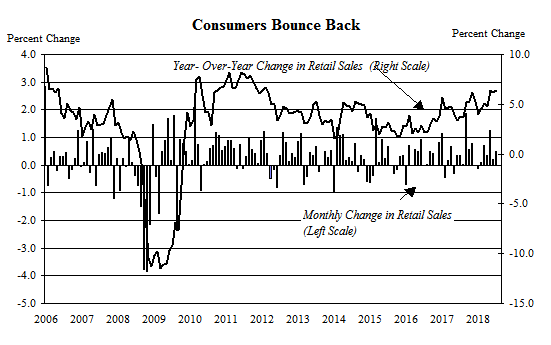 No doubt, the tax cuts enacted last year provided households with more discretionary funds which, combined with heightened confidence in job prospects, is powering spending gains. Not all of the sales increase, of course, was in volume, as consumers paid higher prices for most of the goods sold last month; the consumer price index increased 0.2 percent in July, accounting for about 40 percent of the retail sales increase. Still, the residual gain is significant and suggests a solid start for real personal consumption expenditures in the third quarter. The so-called retail control group, which consists of spending items that directly feed into the GDP accounts, also increased by a sturdy 0.5 percent in July. Given the heady start to the quarter, it doesn't appear that consumers are poised to abruptly rein in spending following the second quarter surge. We expect a slowdown, but to a still-healthy pace of just under 3.0 percent in the third quarter.
To be sure, it is still early in the quarter; with two months to go, there are myriad possible reasons why spending could falter in August and September. An abrupt turn for the worse in the job market would top the list, but there is no sign of this happening. The demand for workers remains strong, as a record number of jobs are unfilled and workers are voluntary quitting their positions at the highest pace since 2001. Another depressing influence would be a confidence-shattering meltdown in stock prices, undercutting the wealth effect that has played a nontrivial role in supporting consumer spending in recent years. Like the recovery, the bull market is nearing a record run and the endgame may well be around the corner. But with corporations still racking up strong earnings amid healthy demand, the fundamentals underpinning stock prices remain solid. The wild card rests with unpredictable external events, such as geopolitical disruptions that are time-honored spoilers in the stock market.
But the economy's growth engine is running on more than one cylinder. While they are the most important driver, consumers are not doing all of the heavy lifting to keep the recovery going. Following two years of lethargic spending on plant and equipment in 2015 and 2016, businesses have been stepping up to the plate and making important contributions to growth. The revival may have been sparked by the resumption of energy-related capital spending, reflecting the rebound in oil prices over the past two years. But with the economy running out of spare capacity and still registering above-trend growth, the need to expand budgets for capital investments is mounting. In the second quarter, business investment spending increased by 7.3 percent following a formidable 11.3 percent increase in the first quarter. That was the strongest two-quarter gain in six years.
Importantly, the revival in business spending is being powered by more than just energy-related investment outlays. Yes, more oil rigs are being built to accommodate rising demand for petroleum. According to Baker Hughes, the number of oil and gas producing rigs increased by more than 10 percent over the past year. But the rig count peaked at 1062 in early June and has since leveled off, totaling 1057 in the week ending August 17. What's more, thanks to technological advances each rig is producing more oil than in the past, requiring less investment by producers to satisfy growing demand. Meanwhile, capacity restraints and the imperative of industrial companies to spend more on productivity-enhancing plant and equipment amid a growing worker shortage are having a growing impact on capital spending.
Indeed, the passing of the spending mantle from energy to other industrial companies was encapsulated in this week's industrial production report. Total IP eked out a meager 0.1 percent increase in July, which unlike retail sales, came in weaker than consensus expectations. But a big drag on the overall figure came from the mining sector, where output fell for the first time in eight months, slipping by 0.3 percent. Even with that drag, however, overall production was up a solid 4.2 percent compared to a year ago, the strongest annual gain since early 2012. Significantly, the strength has recently been coming from the manufacturing sector, which posted increased output for two consecutive months for the first time since last October/November. Even more encouraging is that the production of capital goods is gaining traction. Business equipment output increased by 0.8 percent in July, resulting in a solid year-over-year increase of 4.1 percent.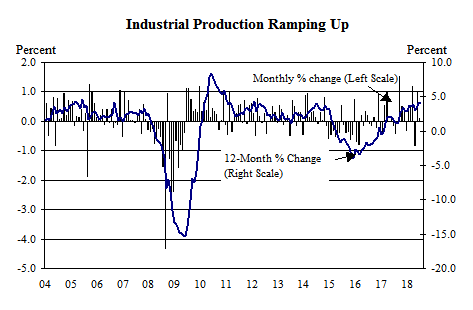 We expect that the fundamentals underpinning capital spending will remain strong through the balance of the year, providing consumers with a helping hand in driving growth. Corporate coffers are being filled to the brim by healthy profits and a much-reduced tax burden. As well, the government has provided a further incentive by giving more favorable tax treatment for capital spending this year. Meanwhile, financial conditions remain favorable; banks are relaxing lending standards for business loans and credit spreads in the bond market remain very narrow. Most surveys indicate that manufacturers remain upbeat about the economy.
That said, a capital-spending boom is not in the cards; indeed, the momentum now underway should begin to fade before the end of the year and contribute to a slowing overall growth rate for the economy in 2019 and 2020. For one, underlying demand that is currently eating away at excess capacity is poised to weaken. The synchronized growth pickup among emerging and developed economies earlier this year has fractured, portending softer global demand for American exports. The strength of the dollar, which makes U.S. goods more expensive, should reinforce that trend. If a trade war erupts, the odds of a more severe global slowdown would certainly increase. For another, the Fed is steadily tightening policy and shows no sign of straying from that path. We don't think the central bank will turn overly aggressive, but even a gradual probing towards higher rates will be a restraint on growth.
Finally, while the broad economy looks to be on a firm footing over the medium term, some weak links are turning up. A big question mark is the housing sector, which has been a drag on growth in four of the past five quarters. By all accounts, that dispiriting trend is set to continue, as residential outlays are on track to decline again in the third quarter. The latest report on homebuilding activity is not encouraging, as housing starts were weaker than expected in July. While total starts did eke out a 0.9 percent gain in July to a 1.168 million annual rate, it was far too little to reverse earlier weakness and remains well below the 1.334 million pace in January. However, starts in July were held back by ravaging fires in the West, and building permits posted a more promising 1.5 percent gain, paced by a 1.9 percent increase in single-family permits. While the underlying demand for housing remains strong, bolstered by a solid job market, homebuilding activity is not likely to provide much of a boost to overall growth going forward. The industry is facing a severe shortage of labor and land to build on as well as escalating costs of materials.