"Get the Best Night's Sleep Ever!"


Review Saperston's Economic Research fresh each Saturday Morning. It is specially prepared by Stone & McCarthy Research of New York City. Go To : www.saperston.com

WEEKLY ECONOMIC COMMENTARY -- WEEK OF OCTOBER 19, 2018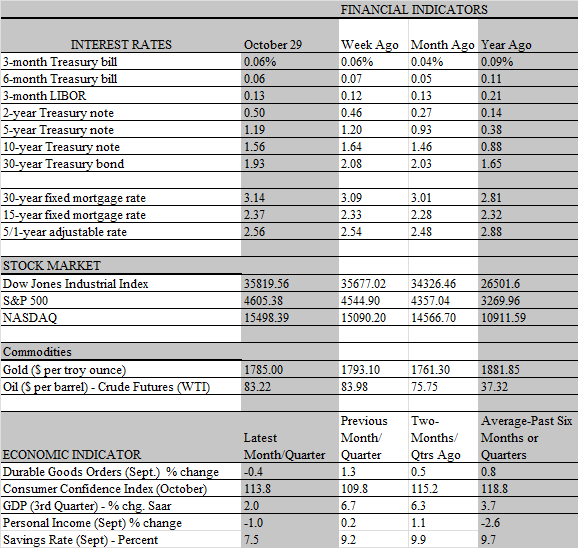 If, as the saying goes, the stock market tends to climb a "wall of worry" its uphill journey is getting more challenging by the week. For sure, there was no shortage of anxiety-producing events to knock it down a few notches this week. The scrum with Saudi Arabia over the alleged gruesome killing of a journalist grabbed most of the attention, although the economic and market impact via a potential oil disruption is not entirely clear. Still, the risk-off trade dominated market activity, reflecting ongoing trade tensions with China, where growth is slowing and facilitating sharp downward moves in the yuan and the Chinese stock market, a budding Italian debt crisis and, most prominently, rising interest rates. With the 10-year Treasury yield hovering around 3.20 percent, up from 2.4 percent at the start of 2018, the stock market with its high valuation and a dividend yield of under 1.9 percent on the S & P 500 Index is looking less compelling to investors.
That said, while volatility has clearly surged there is no sign of investor panic, as corporate earning reports are still showing respectable gains and the economy continues to forge ahead at a solid pace. Against this backdrop, there is reason for optimism, which is cushioning the market from the adverse influences noted above and staving off a dramatic correction. Indeed, stock prices stabilized on Friday, with the Dow Industrials posting a modest gain. But the sources of concern are not fading anytime soon. A resolution of the trade dispute with China is looking remote, the Italian government and the European Commission are at loggerheads over the proposed Italian budget, investor concerns with Italy's finances are having a contagion effect, pushing yields higher on the sovereign debt of Spain and other Southern European nations, and interest rates in the U.S. are poised to rise further.
Notwithstanding the president's expressed displeasure with the Fed's rate-hikes, the markets have firmly priced in another quarter-point increase at the December meeting, which would be the fourth this year. With the economy tracking a solid growth rate in the third quarter and the hand-off to the fourth quarter looking promising, only a sudden unexpected shock would derail that prospect. What's more, the financial markets are giving increasing odds that the Fed will pull the rate trigger again in March of next year. One reason is the more hawkish tone of Fed officials in recent weeks, as reflected in the just-released minutes of the policy meeting held in late September. At that meeting, the consensus among policymakers was that the economy is at least as strong as has been expected and inflation is near the Fed's 2 percent target.
Not surprisingly, some experts feel the Fed is going too fast and too far, claiming that the economy's trajectory does not warrant a persistent stepping on the monetary brakes. Even with the faster growth underway this year, the expansion is hardly a barn-burner, tracking a 2.3 percent growth rate on average since it began in mid-2009, about half the average pace during previous postwar upturns. What's more, they argue that this year's pick-up is about to hit a speed bump; once the sugar-high of last year's tax cuts evaporates the economy will return to its much-lower growth potential in 2019 and 2020. Higher rates in the Fed's playbook may well turn that speed bump into a recession sooner than later
But it is it is hard to describe the current level of rates as anything but accommodative. At 2-2-1/4 percent, the federal funds rate - as well as money market yields linked to it - does not even cover the 2.3 percent annual inflation rate recorded in September, meaning the real cost of borrowing money is still free. Even if the Fed follows through with another hike in December, the real cost of borrowing money will still be cheap, much less a big obstacle for the economy to surmount. Prior to every postwar recession, the real federal funds rate climbed to at least 4 percent before pushing the economy into a downturn. To be sure, the federal funds rate is understating the tightening of financial conditions in the U.S., as the Federal Reserve is shrinking its balance sheet, removing liquidity from the economy, the dollar is strengthening, which crimps exports, and the stock market has lost more than 5 percent so far this month.
But outside of the beleaguered housing market, there is little sign that tightening conditions are impairing the economy's performance. Data released this week confirm our view that there has been little loss of momentum from the second-quarter's robust 4.2 percent growth rate. Consumers are still spending freely, production is ramping up and there are far more job openings than there are people searching for work. With most key data for the third quarter now in the books, the economy is tracking a growth rate of 3.3 percent for the period. That's slower than the second quarter, but still well above trend and supportive of the Fed's near-term plan to continue gradually lifting short-term rates.
On the surface, consumers appeared to zipper up their wallets and purses in September. Overall retail sales rose by a slim 0.1 percent during the month, which was well below expectations and lowered the annual gain to 5.6 percent from 6.9 percent in August. But the headline weakness was skewed downward by sales in two sectors - service stations and drinking and eating establishments. Revenues at service stations fell 0.8 percent, largely due to a drop in prices at the pump, which sliced 0.1 percent from overall retail sales. A more dramatic haircut came from sales at bars and restaurants, which plunged by 1.8 percent, following four months of sterling gains. Although the cause cannot be precisely identified, it would seem that Hurricane Florence played a key role by preventing diners in the affected regions from making outside trips to their favorite eating establishments.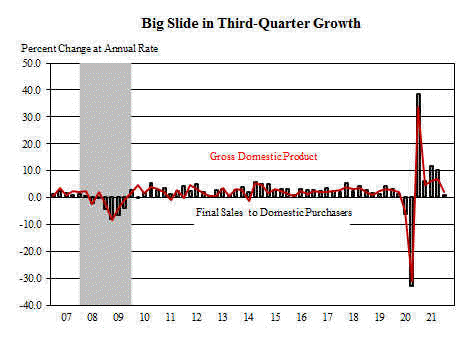 Things look much better outside of these two sectors. Excluding service stations, bars and restaurants, total retail sales show a solid 0.5 percent increase. Indeed, the so-called control group of sales, which feed directly into personal consumption in the GDP accounts, actually increased by 0.5 percent in September. And with core retail consumer prices advancing by only 0.1 percent that month, most of the increase was in real volume. While Hurricane Florence may have contributed to the strong increase in auto sales, reflecting replacement demand, the control group omits autos from the calculation. Over the past three months, the control group of sales increased by an average annual rate of 4.8 percent, which is only slightly less than the increase in the April-June period. Hence, after posting a growth rate of 3.8 percent in the second quarter, real personal consumption is tracking a still-solid pace of 3.5 percent in the third.
Unlike the noticeable drag on some consumer spending, Hurricane Florence had a negligible effect on the production side of the ledger, slicing about 0.1 percent from industrial production according to the Federal Reserve. Nonetheless, Industrial output still increased by a decent 0.3 percent in September and is up 5.2 percent from a year earlier, the strongest annual gain in more than eight years. The overall increase continued to benefit from the mining sector, where output increased by 0.4 percent for the second straight month. That comes on the heels of even stronger monthly gains in each of the previous six months, averaging 1.4 percent. Spending linked to drilling and exploration should continue to benefit from the recent strength in oil prices and potential supply restraints associated with pending sanctions against Iran.
Importantly, manufacturing output is also expanding, with the 0.2 percent increase in September marking the fourth consecutive monthly gain, the longest stretch of increases in seven years. The latest month drew strength from an outsize 1.7 percent increase in auto production, following an even sharper 4.3 percent gain in August. This strength appears to be related to Hurricanes Michael and Florence, which boosted replacement demand for vehicles, and is not likely to be sustained. Sales of light cars and trucks have peaked and rising auto financing rates will limit demand going forward. Outside of autos, business equipment spending also rose by a formidable 0.8 percent following a 1.0 percent gain in August. Hence, business capital spending looks to have turned in another solid quarter of growth, helped by last year's tax cuts, strong profits and cash flow and elevated confidence among business leaders.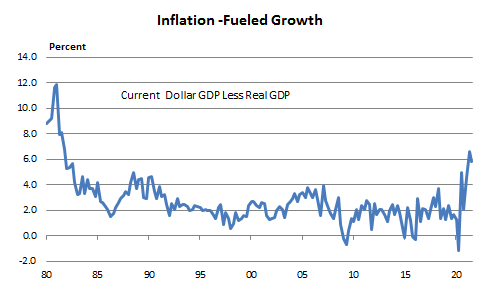 However, this sector is facing strengthening headwinds, pointing to slower growth heading into 2019. The synchronized global growth acceleration last year that spurred a pickup in foreign demand for American products is now ebbing even as the strong dollar has increased the price of these products in the global marketplace. What's more, just as lowered taxes boosted the confidence of business leaders earlier this year, increased tariffs and escalating trade tensions are doing just the opposite now. While not evident in the economic data just yet, there is considerable anecdotal evidence that businesses are putting capital spending plans on hold until a clearer picture on the trade front comes into view.
If there is one sector where the data clearly depict troubling times, it is the housing market. Unlike the retail and industrial production reports, this week's housing data sounded a decidedly downbeat note. The gloomy picture encompassed both the production and sales side of the balance sheet. Existing home sales fell 3.4 percent in September and are down 2.2 percent year-to-date compared to last year. Builders, meanwhile, broke ground on 5.3 percent fewer homes in September than the previous month and building permits for future construction were weak. Most of the latest month's weakness was in multifamily housing, which is a volatile category, but single-family construction turned modestly weaker as well.
The housing sector is caught in the middle of some powerful headwinds. On the positive side, strong job growth and growing incomes indicate that the demand for housing remains strong, with a lack of supply a key factor holding back sales. However, rising mortgage rates and ever-rising home prices are eroding affordability, particularly for first-time buyers. On the production side, builders face an array of constraints, including an acute shortage of available workers and land to build on as well as rising material prices. Residential outlays are not likely to make much of a positive contribution, if any, to growth over the medium term, particularly if mortgage rates continue to increase. However, the homebuilding industry is less important to the economy than it was decades ago, having shrunk considerably following the recession. On a positive note, therefore, any downturn in this sector - a typical precursor to recessions - will not have the same damaging impact on the economy as it had in the past.