"Get the Best Night's Sleep Ever!"


Review Saperston's Economic Research fresh each Saturday Morning. It is specially prepared by Stone & McCarthy Research of New York City. Go To : www.saperston.com

WEEKLY ECONOMIC COMMENTARY -- WEEK OF JULY 13, 2018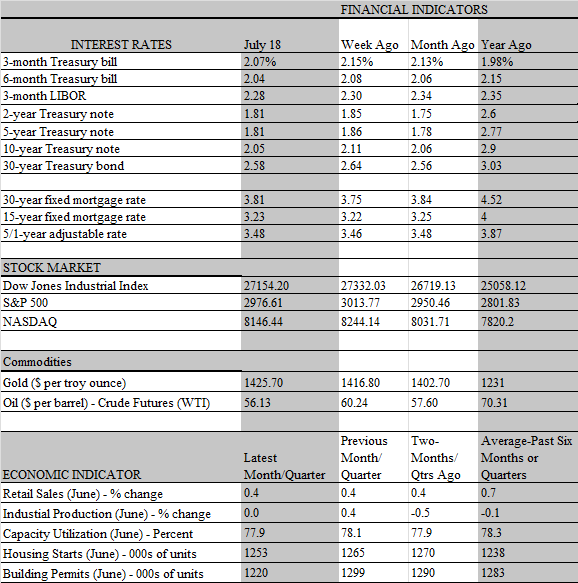 Where are the bond vigilantes? It was not that long ago that the circumstances similar to what we are seeing today would have brought the posse out in force. Inflation just hit a six-year high, the economy is booming, the jobless rate is hovering near the lowest level since the 1960s, the government is running an ever-expanding budget deficit and the nation is generating more output that it is capable of producing. Taken together, this would appear to be a potent mix riling up bond investors fearful that the purchasing power of their fixed income stream will be eroded by runaway inflation. To be reimbursed for that erosion risk, the bond vigilantes would ordinarily demand more compensation, driving bond yields higher. As well, they would urge - and expect - the central bank to join in the anti-inflation fight by stepping more aggressively on the monetary brakes.
But instead of pouring out of the woodworks with fire in their eyes, the vigilantes have been remarkably subdued, seemingly content with the existing inflation and policy backdrop. To be sure, long-term rates have backed up significantly since last fall, with the bellwether 10-year Treasury yield increasing by more than 70 basis points from early September. But after hitting a high of 3.11 percent in the middle of May, the yield has since receded to 2.85 percent, roughly where it stood in the first week of February. Paradoxically, even as the yield trended lower, inflationary underpinnings grew stronger. The economy is poised to deliver the strongest growth rate in four years in the second quarter, the labor market has tightened further, gasoline prices have spiked and a budding trade war threatens to hike tariffs on a broad swath of goods purchased by households and businesses. Not surprisingly, actual inflation is ticking up.
In June, the consumer price index stood 2.9 percent higher than a year-earlier, up from a 2.1 percent pace at the start of the year. Much of that upward thrust has come from climbing energy prices, but even excluding often-volatile food and energy items, the inflation rate has crept up. In June, the core CPI increased 2.3 percent from a year earlier, matching the strongest annual inflation rate since the recession. Despite the headlines, tariffs have not been much of a factor yet, as the volume of goods subjected to the tax prior to June carries a negligible weight in the consumer price index. That could change going forward if the Trump administration follows through with its threat to include nearly all of the $500 billion in goods imported from China as well as on automotive imports from Europe and Japan.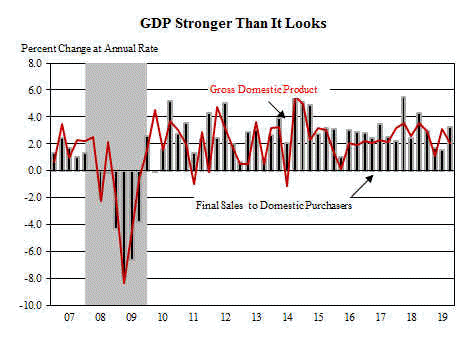 Aside from aberrational gyrations in wireless telephone service prices and other transitory influences, the upward move in inflation is coming from organic sources, much as former Fed chair Janet Yellen predicted a year ago when the inflation rate was moving lower. A buildup of inflation pressures is a natural byproduct of an economy that is in the tenth year of an expansion and whose product and labor resources are being stretched to the limit. With no recession in sight, at least until 2020 barring an unexpected shock, those pressures should continue to build. We suspect that the inflation rate, as measured by the consumer price index, will be flirting with 3.0 percent before long, bolstered by the rollout of higher tariffs in coming months. That prospect, however, is hardly alarming to bond investors, as the 10-year Treasury yield closed out the week at 2.84 percent, precisely where it stood prior to the release of the latest consumer price reports.
One reason for this lackadaisical response is that market participants simply do not think upward price pressures will be sustained over the longer haul. Indeed, the so-called breakeven rates, which measure the market's inflation expectations over time, are pricing in lower inflation beyond this year. The spread between 5- and 10-year Treasury securities and their TIPS counterpart currently stands at 2.07 and 2.11 percent, respectively, which is well below market inflation expectations during the late stage of the previous expansion when, incidentally, the core inflation rate was actually lower than it is now. Nor is it just bond traders that are unfazed about future inflation prospects; most surveys indicate that household inflation expectations also remain well anchored. In its latest survey on household sentiment released Friday, the University of Michigan reported that 5-10 year inflation expectations slipped from 2.6 to 2.4 percent in July, remaining in the 2.4-2.6 percent range for 19 consecutive months.
The benign inflation outlook among bond investors and households is not particularly surprising. To be sure, the narrow breakeven spread probably reflects influences other than inflation expectations. Long-term yields are being artificially depressed by a slew of factors, including central bank actions, wide interest rate disparities across national borders and capital flight into dollar-denominated assets. But even extracting those components from the spread, breakeven rates would still not be rising at the same pace as actual inflation, if at all. Simply put, bond investors are not convinced that the economy has the firepower to ignite a sustained inflation buildup. With growth expected to slow over the balance of this year and next, price pressures are expected to ease as well. What's more, the market has faith in the Federal Reserve's inflation-fighting credentials. As growth has exceeded expectations in the second quarter, so too has the market priced in a higher probability of a Fed rate increase in December.
For households, a number of possible factors are restraining inflation expectations. The historical record is one. Inflation has been down for so long that only recently has the fear of deflation been extinguished. This is the opposite of the hyper-inflation mindset that gripped households from the late 1960s to the early 1980s, when unchecked inflation nourished by a guns-and-butter fiscal policy and an enabling monetary policy convinced households that higher inflation was here to stay. That, in turn, shaped purchasing behavior, encouraging consumers to buy in advance of future price increases, which, of course, became a self-fulfilling prophecy. However, following more than two decades of stable inflation ranging between 2 and 3 percent, the urge to get ahead of price increases has been quenched. For years following the Great Recession, inflation receded so far that policy makers feared consumer behavior would be guided more by deflationary expectations, resulting in delayed purchases that would send the economy onto a pernicious downward spiral.
For another, worker earnings have barely kept up with even the modest increase in inflation. Indeed, the 2.9 percent increase in the consumer price index over the past year has eaten up all of the growth in worker pay. Hence, real average hourly earnings of all private sector workers show no gain in the twelve months through June, robbing households of the increased purchasing power needed to get a leg up on future price increases even if they wanted to. No doubt, this restraint on hourly pay has been mitigated by robust job gains and longer working hours that have generated a modest increase in real weekly paychecks. As well, tax cuts have given a sizeable boost to disposable incomes this year, providing households with discretionary funds to sustain spending on big-ticket items, like autos. But the tax reduction is a one-time boost to purchasing power that will wane over time and the slim gain in real weekly paychecks is hardly sufficient to juice a demand-driven upsurge in inflation.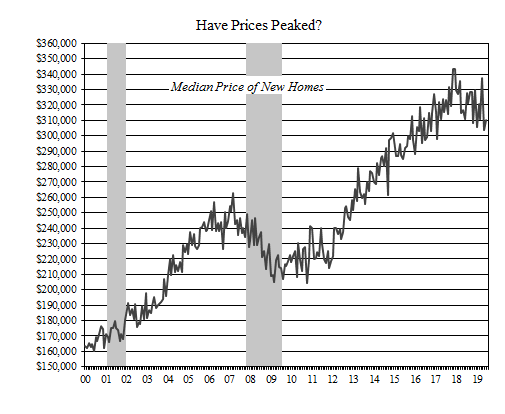 Meanwhile, inflationary expectations are being held in check by structural changes in the economy that continue to gain traction. Most important is the rapid ascendance of e-commerce shopping, which has doubled its share of retail sales since 2011. Amazon and Ebay are the primary catalysts, but brick-and-mortar stores are increasingly getting into the act. The inflation-retarding impact of this trend is twofold. First, prices of goods purchased online are almost always lower than those bought at brick-and-mortar establishments. Second, the enhanced ability to comparison shop via the Internet drives consumers to the lowest price alternative. This transparency, in turn, stokes competitive pricing throughout the retail sector, eviscerating the pricing power of firms that would prevail in a less transparent shopping environment.
The bad news for households is that the restraint on pricing power forces companies to keep a lid on costs to retain profitability. Their biggest expense, of course, is labor, which amplifies the effort of employers to resist aggressive wage demands of workers. However, this is getting harder to do as the job market continues to tighten. True, the low unemployment rate overstates the tightness in the labor market, given the still-low labor force participation rate even after adjusting for demographic trends. But there is no question that the demand for workers is outstripping the available supply, and companies will have to pay up to lure workers off the sidelines or from other firms. The latest data from the Labor Department and the National Federation of Independent Business reveal that unfilled job openings are at or hovering near record highs.
One sign of a tightening job market is that workers are quitting at an accelerated pace. In May, the latest month available, the quit rate rose to the highest level since early 2001, indicating that workers are extremely confident about landing a new and better position elsewhere. When they move, the odds are that they will also receive a sizeable pay boost over and above what they would receive by staying put. The Federal Reserve Bank of Atlanta compiles a wage tracker that clearly shows this discrepancy. In May, the annual wage growth of quitters was more than 20 percent greater than for all workers. Relative to job stayers, the discrepancy was dramatically wider, reaching 44 percent. With more job openings than job searchers and workers quitting their jobs in droves, the pressure on companies to lift wages should only get stronger.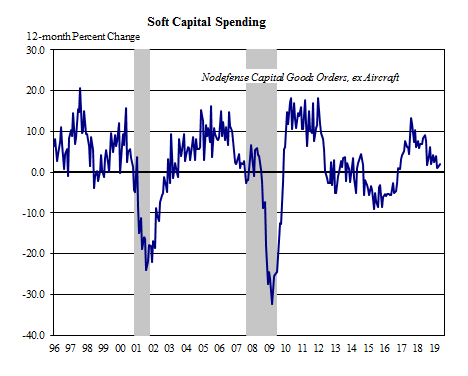 While growth likely peaked in the second quarter, the slowdown towards a 2-2.5 percent trend should not short-circuit the upward pressure on wages and prices over the balance of the year. Nor should it stop the Fed from executing four rate increases this year, with the last two expected in September and December. However, the slowdown combined with a vigilant monetary policy geared towards keeping the economy and inflation on an even keel should also restrain inflation expectations. That, in turn, should keep the bond vigilantes at bay, although a gradual climb in bond yields would be consistent with the expected modest increase in inflation as the economy moves through the late stage of the business cycle.