"Get the Best Night's Sleep Ever!"


Review Saperston's Economic Research fresh each Saturday Morning. It is specially prepared by Stone & McCarthy Research of New York City. Go To : www.saperston.com

WEEKLY ECONOMIC COMMENTARY -- WEEK OF NOVEMBER 16, 2018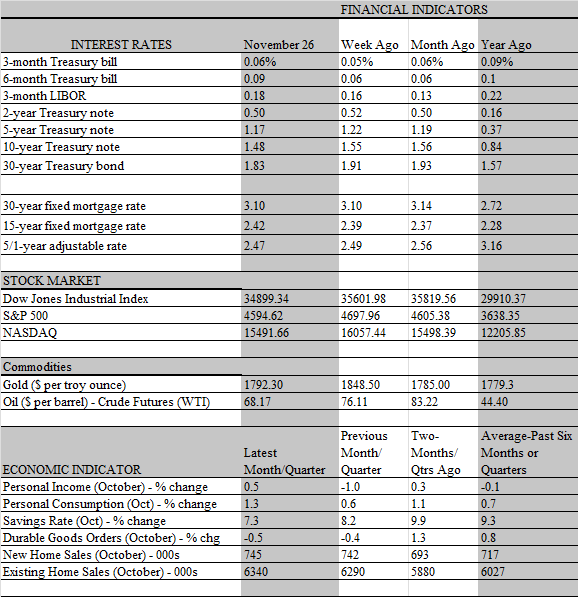 The latest batch of economic reports provides a good example of why it's important to look beyond the headline numbers. On the surface it would seem that inflation is heating up and consumer spending is surging, underscoring the urgency of the Fed to accelerate its rate-hiking plans. A deeper dive into the data, however, should temper that perception. To be sure, neither the headline readings nor the underlying details had much of an impact on the financial markets during the week. Nor, for that matter, are they about to alter the Fed's thinking. Speaking in Dallas on Wednesday, Chairman Powell stuck to his guns, suggesting that the Fed will continue to raise rates gradually. He noted that while the strong economy justifies further rate increases, lest inflation or asset bubbles take hold, the Fed is also mindful of the risk of moving too aggressively, which could prematurely choke off the expansion.
Powell also commented on the current bout of heightened market volatility, but noted that the Fed looks at a range of financial indicators, which are not all pointing in the same direction. Although stock prices have recently slumped, the bond market is not showing typical signs of economic distress, most notably in the form of widening credit spreads between speculative and high-grade bonds. Indeed, it is precisely because of the fickle nature of the stock market that Fed officials are understandably more inclined to base policy decisions on unfolding developments in the real economy. As if to underscore that point, stock prices rebounded from a dispiriting nosedive the day after Powell spoke, ending the week on an upbeat note.
That said, some problem areas that Powell alluded to took center stage this week. While the economy remains on a firm footing, conditions overseas are softening. Growth in Germany and Japan turned negative in the third quarter and activity in China continues to weaken, weighing heavily on its Asian neighbors. Weakening global conditions impact the U.S. economy through direct and indirect channels, dampening foreign demand for U.S. goods and boosting the dollar, which indirectly curtails demand by making U.S. goods more expensive in the global marketplace. Meanwhile, increased tariffs imposed by the administration risk suppressing global trade and growth, even as they add to inflation. Powell noted that tariffs have so far not had a meaningful impact on the U.S. economy; but the potential to do damage looms large, particularly if the duties are applied to autos and expanded to include all of Chinese imports.
But as noted earlier, the devil is in the details. The third-quarter downturn in Germany appears to be a one-off event highlighted by a temporary collapse in auto output related emission standards. It is widely expected that activity in both Germany and Japan will rebound in the fourth quarter and keep global growth on a firm positive path. Conversely, the headline strength in some key U.S. indicators depicts more muscle than is actually unfolding. The most glaring example is the latest report on retail sales, which jumped by 0.8 percent in October, about double the consensus forecast and suggesting that consumers are poised to go on a spending spree that could send the economy into overdrive. Keep in mind that personal consumption expenditures - the economy's main growth driver - increased by annual rates of 3.8 percent and 4.0 percent in the second and third quarters, the strongest back-to-back increases since 2014.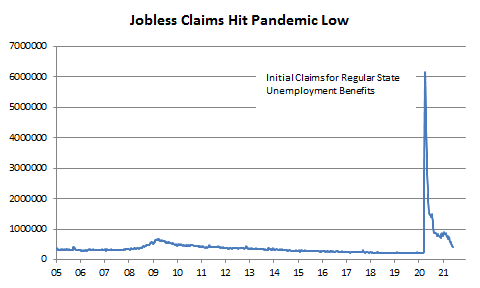 A closer look at the details, however, paints a much less vigorous picture of consumer spending habits in October. The primary thrust behind the retail sales gain came from three sources - gasoline, autos and building material - all of which were boosted by temporary factors. A 3.5 percent surge in gasoline sales reflected higher prices at the pump last month, which has since reversed course and should have a deflating effect on sales in November. The strong gains in sales of autos and building materials appears to be a post-hurricane rebound that is not likely to be sustained. Auto sales are facing increasing headwinds from rising financing costs and tightened lending standards, while underlying sales of building materials are constrained by an ever-softening housing market.
Indeed, all three of these sectors are omitted from the so-called retail control group that feeds directly into the personal consumption calculation, the main component of GDP. This cohort advanced by a much less impressive 0.3 percent in October, following a downwardly revised 0.3 percent increase in September. The initial estimate for September was for a 0.5 percent gain, so the lower revised total indicates that consumer spending had less momentum heading into the fourth quarter than thought. It may be that the positive thrust the tax cuts gave to consumption in the second and third quarter is starting to fade, something that is widely expected to contribute to slowing growth in the fourth quarter and into 2019. Indeed, households have recently been drawing on savings to finance purchases, lowering the savings rate by more than a full percentage point from earlier in the year.
Still, it would be a mistake to think that households are going into hibernation. The back-to-back increases of 0.3 percent in core sales are solid gains that portend a healthy, if somewhat slower, pace of personal consumption in the fourth quarter. What's more, the October increase was broadly based, with only two of the thirteen major sectors showing sales declines. The 0.3 percent slide in sales of furniture and home furnishings followed a robust 0.5 percent increase in September and the total over the first ten months of the year is still up by a respectable 4.3 percent. More discouraging, however, was the third consecutive decline in sales at bars and restaurants, a useful barometer of discretionary spending by households. A string of declines that long is exceptionally rare and hasn't occurred even during the dark days of the Great Recession. Odds are, the slump is primarily related to Hurricanes Michael and Florence, which kept people indoors, rather than any sign that households are becoming more frugal.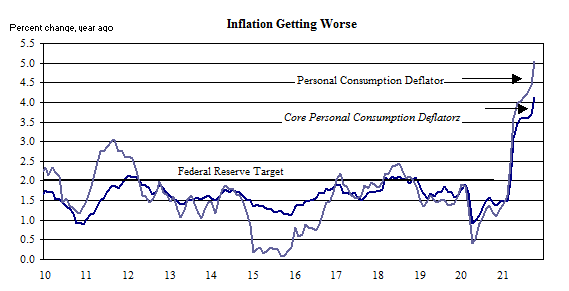 With payrolls surging by 250 thousand in October, wage growth accelerating and confidence still very high, the fundamentals are in place for a solid increase in spending this quarter. Department store sales rose by a healthy 1.3 percent in October, reversing two months of declines, suggesting festive shopping prospects heading into the holiday season. The seasonal increase is not likely to live up to last year's impressive 5.3 percent gain but sales should advance by a solid 4.7 percent year-over-year. Keep in mind though that more of this year's increase will be eaten up by inflation, which will slice the growth rate in real personal consumption. Overall, we look for real PCE to grow by a slower, but still firm, 2.7 percent in the fourth quarter compared to the 4.0 percent gain in the third.
Like retail sales, the headline reading on consumer prices for October depicts more inflation than is actually unfolding. The consumer price index increased 0.3 percent during the month, lifting the annual increase to 2.5 percent from 2.3 percent in September. But as was the case with retail sales, the monthly increase was heavily influenced by a jump in energy prices, which surged by 2.4 percent from September to October, paced by a 3.0 percent spike in gasoline prices. As noted earlier, crude oil prices have since fallen precipitously and energy costs should be a drag on the CPI for November, barring an unexpected rebound in crude quotes over the next two weeks. Beyond the gyrating movements in energy prices, consumer inflation remains well contained. The core CPI, which excludes volatile food and energy prices, rose by a more subdued 0.2 percent in October, and actually slipped from 2.2 percent to 2.1 percent year-over year between September and October.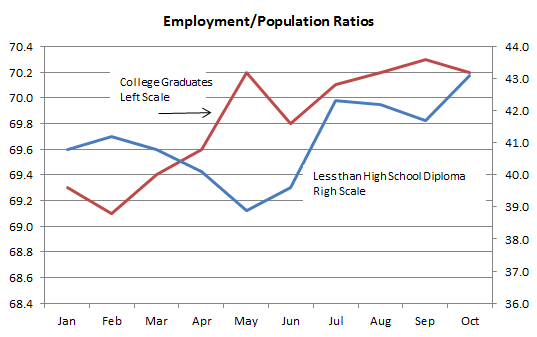 With core inflation showing little sign of accelerating, the Fed is not under pressure to step up its rate-hiking plans. But neither does it view the tame inflation readings as a reason to back off from its path of gradually lifting rates. Stronger wage growth and signs that businesses are gaining more pricing power point to higher inflation down the road. No doubt, Fed officials are keeping a close eye on global developments, as an abrupt growth slowdown overseas, a potential debt crisis in Italy and a messy exit of the U.K from the European Union are all potential shocks that could have disruptive influences on the U.S, economy and financial markets, which could well put rate increases on hold. But barring some external shock, policy makers are likely to stay the course, at least until short-term rates are brought up to a neutral level, i.e., one that neither stimulates nor retards economic growth.
The Fed correctly sees this course as the best way to keep the expansion going. While the rate increases so far have not threatened the recovery, they have kept inflation expectations in check and the economy from growing even faster than its potential than it already has. With the output gap now closed and the economy still growing above its potential rate, inflationary pressures will surely gain traction unless the Fed steadily moves to bring growth down to a sustainable pace. How high rates need to go to achieve this outcome is open to debate and the Fed, as Chairman Powell recently described, will soon be moving through a "dark room" bumping against furniture until it finds a safe place to stop. He and his colleagues believe that another three or four quarter-point increases will bring short-term rates up to a neutral level, but that goal is a moving target that can well be changed over time.
Simply put, as long as growth exceeds the economy's potential growth rate, perceived to be around 2.0 percent, the Fed is likely to keep pushing rates higher. In their latest forecast, policy makers expect the economy to grow by 2.5 percent next year, supporting their outlook for four additional rate increases, beginning with the widely expected quarter-point hike at the mid-December policy meeting. However, should it turn out that past rate increases will take a bigger bite out of activity next year and the economy downshifts more abruptly than expected, the pace of rate hikes will no doubt slow if not stop. The more likely scenario, however, is that upside risks to the growth outlook will prevail, particularly if the new Congress supports a major infrastructure spending bill without a corresponding tax increase to pay for it. That second round of fiscal stimulus, depending on its size, could jump-start the economy's growth engine, putting more strain on the nation's output capacity and igniting the inflation embers. The risk then would be that the Fed turns more aggressive and overshoots the mark, hastening the onset of the next recession.