"Get the Best Night's Sleep Ever!"


Review Saperston's Economic Research fresh each Saturday Morning. It is specially prepared by Stone & McCarthy Research of New York City. Go To : www.saperston.com

WEEKLY ECONOMIC COMMENTARY -- WEEK OF SEPTEMBER 21, 2018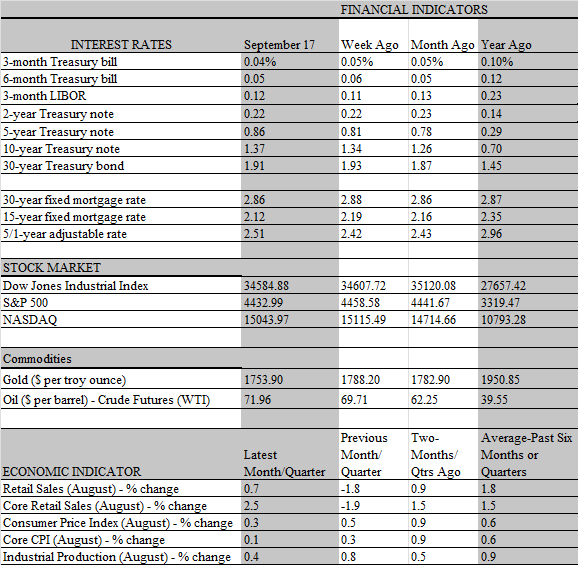 The next tranche of tariffs on Chinese imports is set to go into effect on September 24, but the tit-for-tat in the burgeoning trade war with China is not denting the bullish sentiment on Wall Street. Indeed, stock prices roared to new heights this week and interest rates continued to increase. Either investors are getting a case of battle fatigue with the ongoing trade saga between the world's two largest economies, or they believe that the punitive measures, both taken so far and threatened, will not derail the U.S. growth engine that continues to display a good deal of firepower. Alternatively, the markets may be forging ahead on the assumption that both parties will dial down the slings and arrows before things reach cataclysmic proportions. From our lens, if the trade war escalates to the full extent of the tariffs threatened - 25 percent on the more than $500 billion of imports from China, and China retaliates by imposing similar tariffs on all U.S. exports - the toll on the U.S. economy would be significant, slicing as much as 1 percent from growth next year.
With other headwinds already poised to crimp growth - a tightening monetary policy, waning fiscal stimulus, slowing activity abroad and growing worker shortages - a haircut of that size would not be a trivial event. Given the uncertain outcome of where trade negotiations will wind up, market participants are instead choosing to focus on the here and now; and the readings they see continue to provide solid support for the bullish sentiment driving asset values. By all accounts, the economy is on track to deliver another sturdy performance in the current quarter. To be sure, Hurricane Florence is likely to generate some noisy data in coming weeks. Many workers are prevented from getting to their jobs, which will likely cause a temporary spike in claims for jobless benefits, and forced closing of stores and factories will result in lost sales and output.
But the skewed data in coming weeks should not obscure the strong underlying trends in both the labor and product markets. Companies are not only hiring workers at a robust clip, they are tenaciously holding on to existing workers. Indeed, filings for initial unemployment benefits have plunged to the lowest level since 1969, with the four-week average falling to 206 thousand in the week ending September 15 (just before Florence hit). The steadfast retention of workers comes as no surprise in an ever-tightening job market, where workers are voluntarily quitting at a record pace to obtain better pay packages elsewhere. As highlighted in the latest employment report for August, the intense competition for workers is finally showing up in paychecks, as average hourly earnings staged the fastest annual increase -2.9 percent - in more than a decade. What's more, an earlier more comprehensive report on labor compensation reveals that worker benefits are increasing even faster than wages.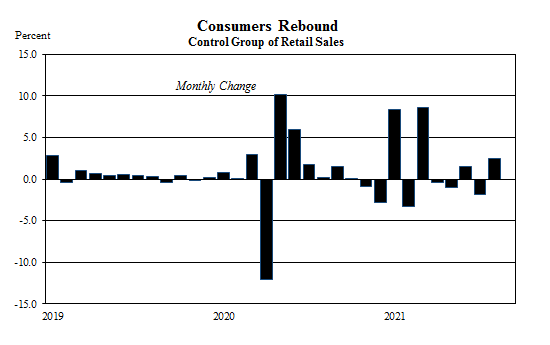 To be sure, we have seen spikes in hourly earnings before in the recovery, only to see them reversed in subsequent months. However, the support for sustained wage increases is more firmly established this time. Following a record stretch of 95 consecutive months of job gains and an unprecedented number of unfilled job openings, the bargaining power of workers has clearly increased. What's more, the rewards of enduring strength in the job market are finally filtering down to the less advantaged segment of the workforce, with an increasing share of high-school dropouts and minorities getting paychecks. All this bodes well for household spending, which accounts for about 70 percent of total output.
On the flip side, of course, rising labor costs will squeeze profit margins unless employers can pass on the increased expense to consumers in the form of higher prices or derive more productivity from the workforce. Interestingly, one key reason companies have enjoyed record profits amidst a slow-growth recovery has been their ability to hold down labor costs, not only by successfully resisting wage demands but also by outsourcing output overseas where labor costs are lower. With China being a major source of operations for a litany of American firms, the strong opposition by business leaders to Trump's protectionist trade strategy is highly understandable.
No doubt, while stock investors are seemingly unperturbed by the headline-grabbing trade tensions, they will become more concerned if the knock-on effects start to impair corporate profitability. Nor is it only labor costs that are rising. With the Federal Reserve firmly committed to its gradual rate-hiking campaign, business borrowers are facing higher financing costs, both at commercial banks and in the capital markets. That said, cash flow has been more than adequate to cover business spending needs and the Fed's tightening campaign has had little effect on capital spending. Indeed, the financing surplus for nonfinancial corporations - the excess of internal cash flow over capital spending - averaged nearly $700 billion over the first half of the year, according to the latest Federal Reserve data, which is more than double the amount ever recorded for a six month period.
What's more, despite copious borrowing by corporations, driving outstanding debt up to a record share of GDP, debt-servicing charges have hardly been onerous. Just the opposite is the case. The record issuance of debt has been conducted in a historically low rate environment, and an outsize share of the funds obtained has been used to refinance higher-yielding older debt. Not only have lower quality borrowers, which accounted for a large share of issuance, benefited from the generally low rate environment, they have also borrowed at narrow spreads relative to highly-rated debt. As a result, net interest payments as a percent of outstanding corporate debt has fallen steadily, culminating in a drop to 3.5 percent in the second quarter, the lowest since 2006. This is a very atypical trend in the late stage of an economic cycle. Prior to every post-war recession, net interest expense started to rise at least one year prior to the downturn.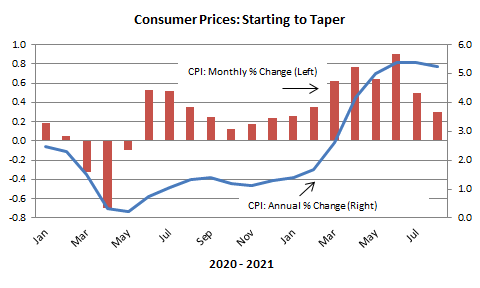 Simply put, there is nothing to prevent the Fed from pulling the rate trigger again at its upcoming policy meeting on September 25-26. We suspect that another increase will be taken at the December meeting as well, unless escalating trade tensions or some other shock clobbers consumer and business confidence and wreaks havoc in the financial markets. But as the curtain rises on 2019 the march towards a neutral rate, which the Fed currently pegs at just under 3.00 percent, will get a little bumpier, as the aforementioned headwinds will start taking a bigger bite out of the growth engine. At this juncture, however, the hawks seem to have the upper hand, as the economy's performance continues to exceed expectations and wage inflation is showing every sign of gaining traction.
Indeed, the neutral short-term interest rate currently envisioned by Fed officials - one that neither stimulates nor retards growth - is not a fixed target. If the economy continues to grow above trend as rates approach the target without stoking an upsurge in inflation, the Fed may well view policy as still being too accommodative. Hence, they will likely stay on the gradual rate-hiking path until growth slows, probing for a new equilibrium target consistent with the economy's noninflationary growth rate, whatever that might be. That, of course, raises the risk of a policy mistake, since the Fed is unable to assess the damage that a rate increase might have on the economy six months down the road. Keep in mind that by next year, both levers of policy - monetary and fiscal - will be working in the same direction to slow growth.
It is also worth noting that higher rates do have consequences for some parts of the economy, most notably housing, which is highly sensitive to credit conditions. The rate on 30-year fixed mortgages rose to a four-month high of 4.65 percent this week. Except for the 4.66 percent on May 24, the rate has not been this high since May 2011. It's doubtful that the climb in mortgage rates has had much of an impact on home sales so far except to shut out many first-time homebuyers from the market. More likely, housing activity - both on the sales and construction side - has been impacted by high home prices, rising construction costs, worker shortages and a scarcity of lots to build on. These headwinds have taken a toll on both sides of the housing ledger.
At first glance, the latest data on housing do not look too onerous. Homebuilders actually broke ground on more homes in August than expected, as total housing starts jumped 9.2 percent over July to a 1.282 million annual rate. That was also a healthy 9.4 percent higher than the year-earlier pace. But underneath the surface, things get murkier. For one, most of the increase was in volatile multi-family construction, where starts increased by an eye-opening 29.3 percent. Single-family starts, which are more representative of the housing market, edged up by a slim 1.9 percent. More important, a key forward looking indicator, building permits for future construction, took an ominous nosedive, falling by 5.7 percent from July and 5.9 percent from a year ago.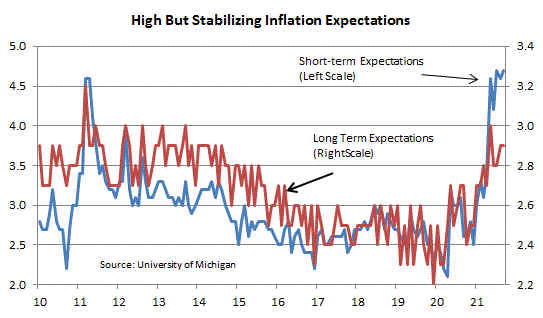 Housing is often viewed as the canary in the coal mine, rolling over before the air is sucked out of the rest of the economy leading up to a recession. Things are far from that point. There is still a good deal of pent-up demand for housing, builders remain relatively upbeat and underlying fundamentals for sales - a strong job market, rising wages and elevated confidence - are sound. However, cracks in the housing foundation are beginning to appear and it's doubtful that residential outlays will contribute much, if anything, to growth for the rest of the year. It would be a mistake to interpret the recent weakness in home sales and construction as a harbinger of a recession, but it fits with our assessment that growth is poised to slow from the heady pace over the first half of the year.