"Get the Best Night's Sleep Ever!"


Review Saperston's Economic Research fresh each Saturday Morning. It is specially prepared by Stone & McCarthy Research of New York City. Go To : www.saperston.com

WEEKLY ECONOMIC COMMENTARY -- WEEK OF MAY 18, 2018

THERE WILL BE NO COMMENTARY NEXT FRIDAY, THE START OF THE MEMORIAL DAY WEEKEND. THE NEXT WEEKLY WILL BE PUBLISHED ON JUNE 1 WITH THE MONTHLY JOBS REPORT.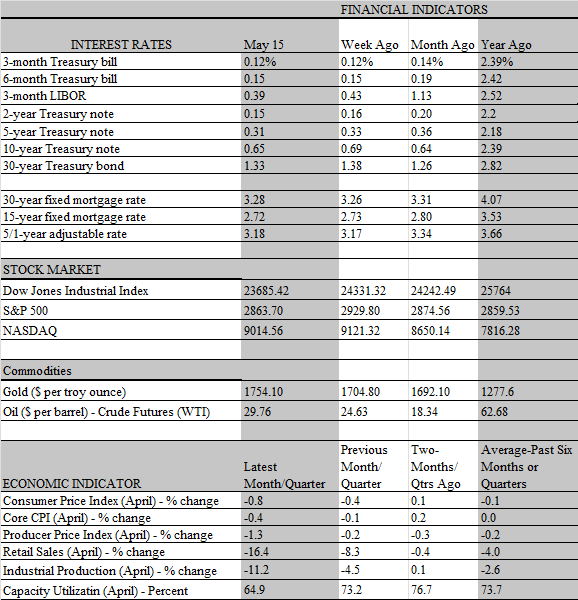 In a fitting tribute following the untimely demise of Lois Lane (Margot Kidder), several asset classes took to the skies this week; most notably it was up, up and away for bond yields, oil prices and the dollar. The first two climbed to multi-year highs, while the greenback rebounded to the highest level since last November. All of the movements have a common denominator: a strengthening economy that increasingly looks set to morph into the longest expansion in U.S. history. To be sure, beyond that main catalyst, there are nuances that uniquely underpin each of the upward moves. Increased inflation expectations are spurring bond yields upwards, higher rates, in turn, are attracting capital flows into dollar-denominated assets, and dwindling oil inventories against rising demand is sending crude quotes to over $70 a barrel, a four-year high.
None of these nuances, however, would have as potent an effect - or even prevail - if the economy were less vigorous than it is shaping up to be. Following the first quarter's lackluster 2.3 percent growth rate, the economy began the spring quarter on a firmer footing, thanks in part to an elevated starting point that strengthening activity in March provided. Building on that momentum, key data for April continued to at least meet expectations, putting the economy on track for a 3.5-4.0 percent growth rate during the spring quarter. With inflation already hugging the Federal Reserve's 2 percent target and the job market at or near full employment, the Fed has more than enough ammunition to pull the interest-rate trigger again at its June meeting and probably two more times before the end of the year. As of Friday, the futures market priced in a 55 percent chance of three additional increases this year.
All of the main cylinders are driving the growth engine this quarter. Consumers are ramping up spending, factories are humming and housing activity is perking up. Even the government is chipping in. Not only is the fiscal stimulus from last year's tax overhaul gaining traction, state and local governments are enjoying a revenue windfall that will find its way into the spending stream one way or another. These positive influences should more than overcome some gathering headwinds over the near term, including slowing growth overseas that, along with the strengthening dollar, may crimp exports, the ever-present threat of a trade war, and potential confidence-rattling escalation of Middle East tensions that is contributing to the climb in oil prices. There is also the question of whether the economy can withstand much higher interest rates, given the rapid growth in household and corporate debt in recent years.
So far, however, consumers - the most important growth driver - are doing the heavy lifting needed to hoist the economy out of the first-quarter doldrums. Following a robust 0.8 percent increase in retail sales in March (revised up from a 0.6 percent earlier estimate), shoppers continued to spend freely in April. Sales increased by a respectable 0.3 percent last month, lifting the year-over-year increase to 4.8 percent. That's a full percentage point stronger than at the start of the year and comfortably outpaces the increase in retail prices. What's more, the so-called control group of purchases that feed into the GDP calculations, increased by a sturdier 0.4 percent in April, which is twice as large as the increase in the consumer price index during the month. Hence, real personal consumption expenditures are on track to post a 3.2 percent growth rate in the second quarter, which would be roughly three times stronger than the tepid 1.1 percent first-quarter pace.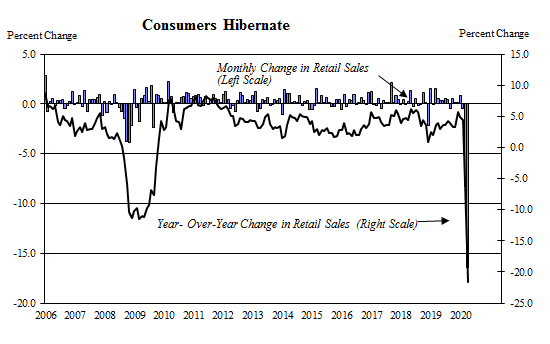 While most major retailers registered gains last month, service stations saw the biggest increase, enjoying an outsized 0.8 percent advance in sales. That comes as no surprise, as customers paid considerably more to fill up Old Betsy at the pump. Prices averaged $2.76 a gallon for regular gas in April, up from $2.59 in March and $2.42 a year ago. While still less than the $3.50 motorists were paying in 2014, the increase over the past year has put a big dent in their pocketbooks. In April, households shelled out $4.4 billion more for gasoline than they did a year ago, accounting for 20 percent of the increase in all retail sales. As result, the share of purchases earmarked for gasoline increased from 7.9 percent to 8.4 percent. That half-percent increase translates into about $2.5 billion of additional funds poured into gas tanks that could have been spent on food, housing, utilities and other essentials.
What's more, the bite got even bigger this month. According to latest data from the U.S. Energy Information Administration (EIA), the price of regular gas increased to $2.87 a gallon in the second week of May. Simply put, this amounts to a stealth tax for households that at some point will restrain spending if the trend continues on its current path. With the summer driving season about to get underway, odds are high that gasoline prices will keep on rising for at least a while longer. Keep in mind too that higher gas prices puts a bigger squeeze on the budgets of lower-income households than those higher up the income ladder, if only because the former devotes a larger share of their incomes to gasoline purchases. To be sure, lower taxes does mitigate the budget squeeze somewhat, but most of the tax cuts skews to wealthier individuals whose spending habits are not particularly constrained by higher gas prices.
Clearly, the economy would readily overcome the drag from higher gasoline prices if income growth speeds up. The good news is that the stage is set for that to take place. What's more, rank and file workers should reap most of the gains, as demand for their services is outstripping the supply coming on stream. Indeed, goods producing sectors of the economy are pacing the growth pick up this year, with manufacturing leading the way. Industrial production rose a sturdy 0.7 percent in April and has increased by an average of 0.6 percent over the past three months. You would need to go back to July 2010 to find a stronger average three-month gain. With output steadily rising, industrial companies are using up more capacity. In April, the capacity utilization rate hit 78 percent, the closest to its 80 percent long-term average since March 2015.
Unlike three years ago when heightened activity in the energy sector stoked industrial production, the current strength is more broadly based, with factories playing a bigger role. Manufacturing output increased by a solid 0.5 percent and, like overall production, has increased by an average of 0.6 percent over the past three months. Importantly, manufacturers are struggling to find workers to fill positions. One time-honored predictor of higher wages is the length of the workweek. In April, production and nonsupervisory manufacturing workers logged an average of 42.4 hours a week, the longest workweek in the postwar period. Asking workers to put in longer hours is exacting a price, as hourly earnings in the goods-producing sectors are growing faster than for all private-sector workers. This trend is poised to continue, as regional manufacturing surveys for New York and Philadelphia both showed continued strength in May.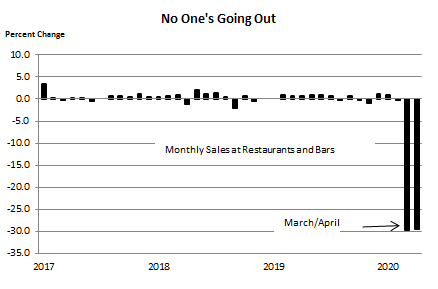 No doubt, as labor becomes more expensive and spare capacity shrinks, the incentive for companies to ramp up investment spending increases. There are signs this is already taking place, helped by corporate tax cuts that are filling corporate coffers. It takes time for new capital investments to come on stream, however, and it is unclear if productive capacity will expand fast enough to accommodate increasing demands for goods. With worker shortages proliferating and slack in the product market shrinking, the recipe for higher inflation is in place unless companies choose to hold the line on prices and accept smaller profit margins. If they opt for the latter choice, that would pose a major risk to the nine-year-old bull market in stocks. Indeed, a major stock market correction along with a global trade war are two of the more visible threats to the economic expansion.
The other threat rests with the Fed. If it moves aggressively in response to signs of an overheating economy, hoping to preempt an inflation outbreak, the odds of a recession occurring sooner rather than later would certainly increase. At this juncture, we don't see that as a likely development, as most Fed officials do not appear overly concerned that inflation may overshoot the 2 percent target for a period of time. However, if wage growth decisively breaks out of the lackluster 2.5 percent trend in effect over the past three years, a more hawkish bias could well seep into the Fed's thinking, particularly if the economy continues to build momentum beyond the second quarter.
One sector that would signal how far the Fed can go in tightening policy is housing, perhaps the most interest-sensitive sector of the economy. So far, the climb in mortgage rates - which hit a seven-year high of 4.61 percent for 30-year loans this week - has not had much of a restraining impact. Home sales are steadily improving, despite steep price rises along with higher financing costs, and homebuilders are revving up construction. Housing starts did slip 3.7 percent in April to a seasonally adjusted annual rate of 1.287 million. But that modest setback is not worrisome. For one, it comes off the highest level in eleven years reached in March. For another, the entire decline was in the volatile multi-family sector, where starts plunged by 11.3 percent.
In the single-family housing market, where there is an extreme shortage of supply, starts held steady and are up 7.0 percent year-to-date compared to last year. Importantly, building permits for future construction of single-family homes increased 0.9 percent last month and are up over 7.0 percent from last April. Homebuilders remain extremely optimistic on the housing market, and their optimism is supported by the fundamentals driving sales, namely growing incomes underpinned by a strengthening job market and improving demographics, with millennials moving into the home-buying stage of the life cycle. The major impediments to home construction are restraints on the supply side, particularly the rapidly rising cost of materials and a shortage of construction workers.